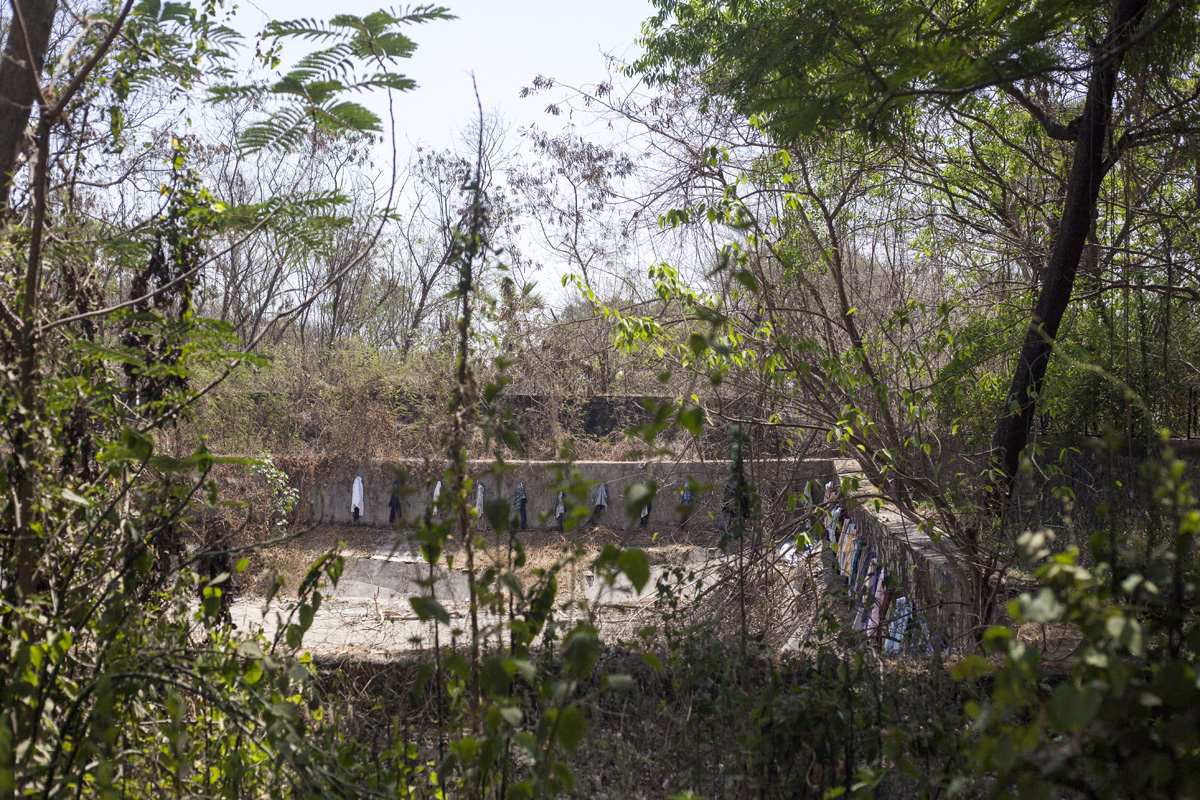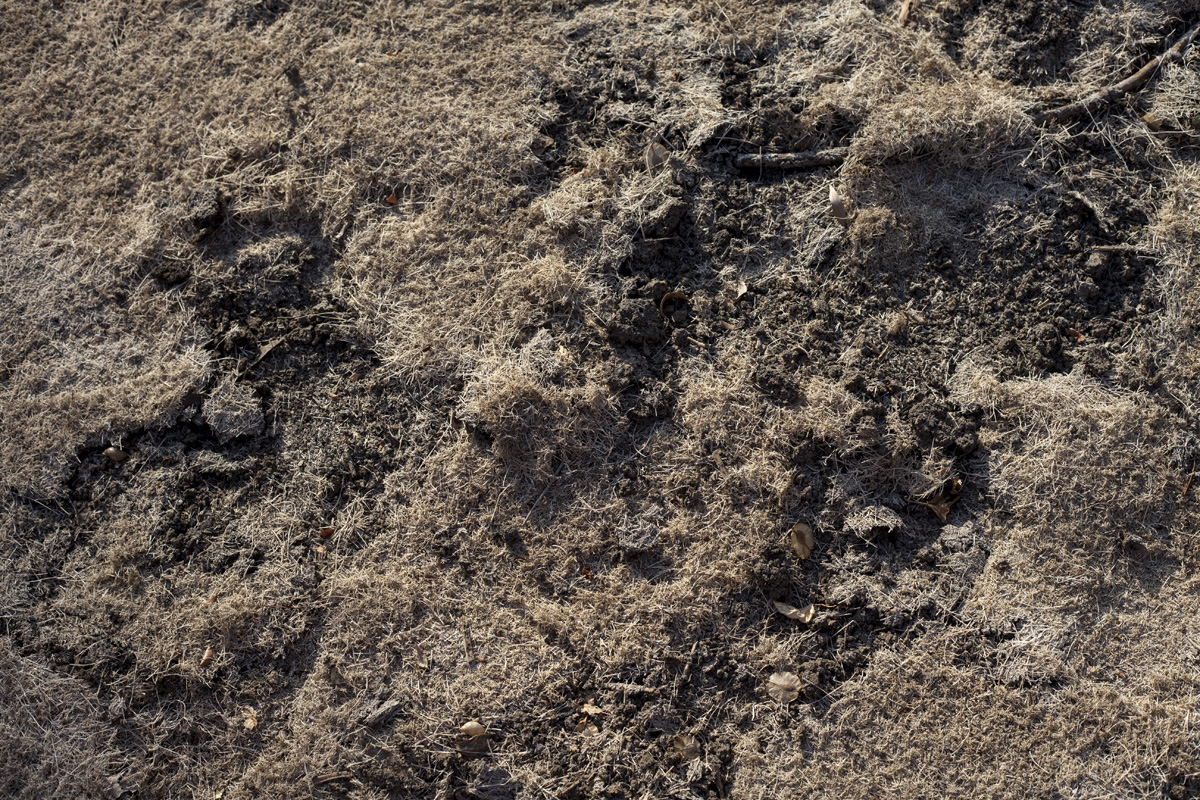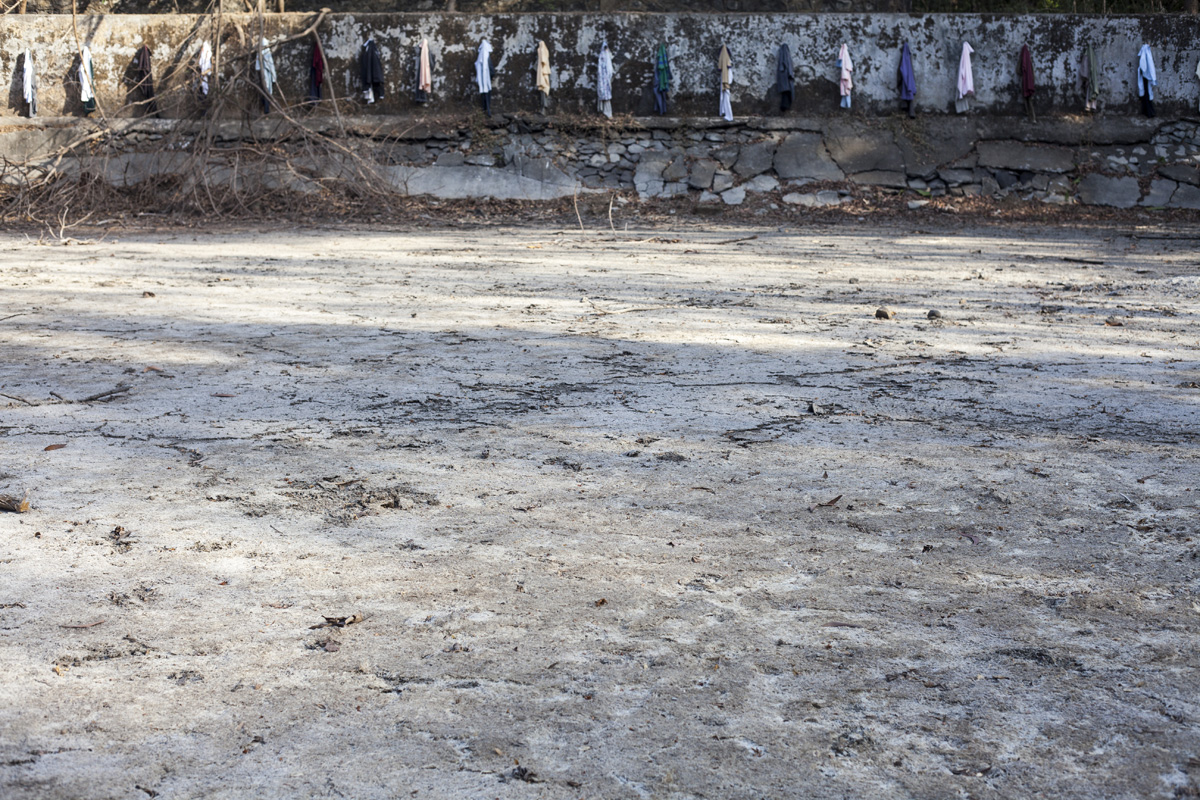 CHANGING ROOM
2016
The grounds of Piramal Vaikunth are splattered with the remains of a bustling chemical factory that once employed thousands. A potential hazard today due to unstable structures and chemical residue, these buildings are marked out of bounds for us resident artists. Yet, whenever I walked past, I noticed bright clothes dotted along their walls, a desolate changing room of sorts. Temporary labourers move in and out of them daily, their neatly hung shirts and trousers an inconspicuous stamp of their presence. And although permanent staff is allotted places in the new, functioning buildings for their belongings, those spots too are just out of view, almost hidden from the public eye.
For millions across India, this act of leaving home in one's own outfit and then donning a new costume at work is a daily ritual. While uniforms may vary from an authoritative crisp blue shirt to self-designated old torn clothes used as shields against paint and dust, each is an identifier specifically of one's profession and not much else. The sense of individuality is left just out of sight, hung behind doors, tucked away in a corner at the back of a storeroom, or on abandoned walls in forgotten buildings.
This play on invisibility between the private and public corresponds, I believe, to the marginalising of socio-economically disadvantaged working classes of India. Although made in charge of creating, and maintaining huge public and private structures across the country, the inequalities that they are subjected to are more colossal. The deep wage gap and ensuing limited access to basic resources leaves one at the bottom rungs of social hierarchy, erased of any individuality but for occupation, caste, class, and gender.
The installation 'Changing Room' comprises almost 200 items of men's clothing arranged systematically below ground level in a large water tank that was once teeming with fish, but now lies dry and bleached by the scorching sun. Accompanied by images of actual belongings of Piramal employees in various spots across the ground, this work attempts to explore various layers of social structure, individuality, identity, and invisibility that manifest in physical, tangible spaces and objects.
Accompanying photo booklet