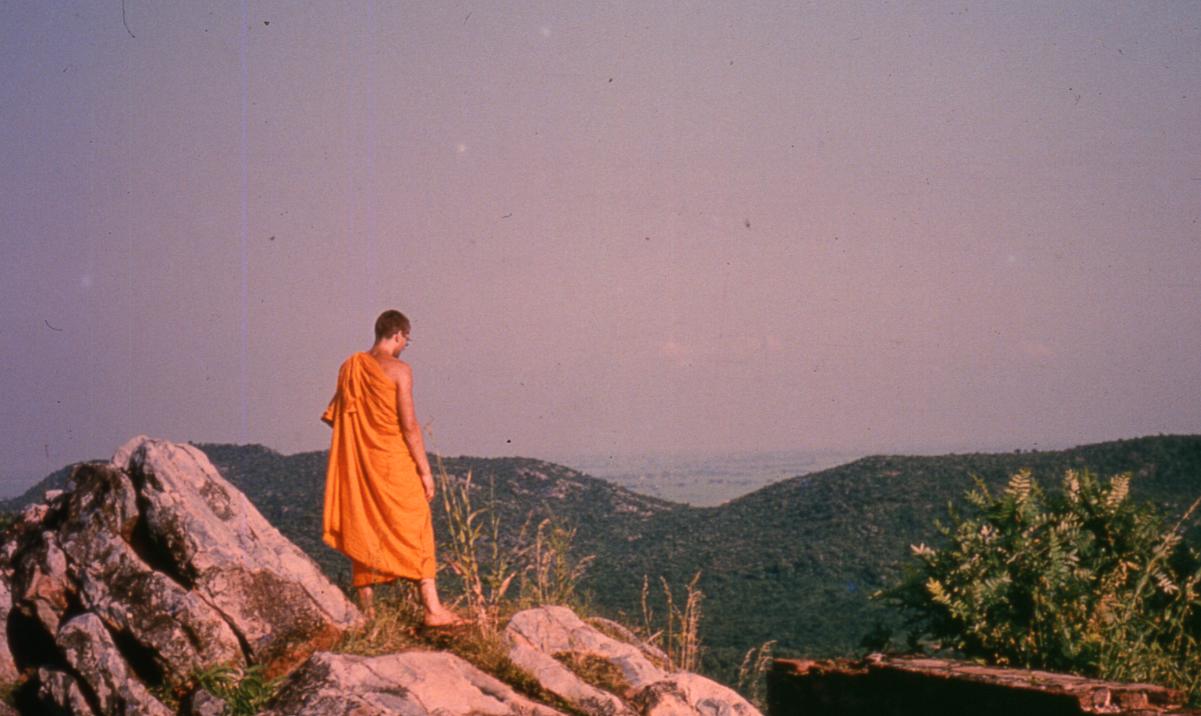 I came out to India in 1977 mainly to do yoga. I'd been practicing and teaching yoga for some time and I'd wanted to come learn with Mr Iyengar. Simultaneously I thought, let me go visit the Buddhist holy places too. The squat we were living in at the time and our centre was all being redeveloped, and so we had to leave there anyway…so I thought this is a good break. I'd saved up 200 pounds I think, and I did 3 months travelling on it. First we arrived in Delhi on an Afghan Airlines plane, which was a bit like a bus; it seemed to stop anywhere, it didn't have a schedule. We thought we were going straight to Kabul but it stopped off at Paris, Berlin, in Amsterdam. We didn't have any chickens on the plane but it was almost like that! Eventually we got to Kabul, changed planes there, and got to Delhi, then went to Sarnath, Buddhagaya and then went further up to Nalanda, Kalimpong and then down eventually to Poona. These pictures, the picture of us two walking there, that's at Nalanda, and the picture above it is at Rajgriya near Nalanda, where the Buddha gave many teachings. It's called the Vulture's Peak in the Buddhist texts. It's above the old town of Rajgriya which was the capital of Magada. Stunning place.
I became a monk when I was in England. My teacher Sangharakshita talked to me about becoming an Anagarika, which is a sort of freelance monk. If you're a proper monk you take 220 vows or something; you can't handle money, you can't do this, this and this. It makes it very difficult to actually do anything. So I thought well, let me become a monk just for that period. I think it did sort of enhance my visit to the Buddhist holy spaces.
And then when I came to Maharashtra to do yoga, I found it made an instant connection with the local Buddhists, which I couldn't have done if I hadn't been in robes.
I loved the simple life; I loved just having two sets of robes, not having to comb your hair or choosing what clothes to wear, not having any choice. It was a very good experience. And it made life so much easier. I just wore rubber flip-flops everywhere, and kept a shirt and jeans to wear to England every year. It was a wonderful, wonderful experience and a valuable part of my life. One that I don't regret in the slightest.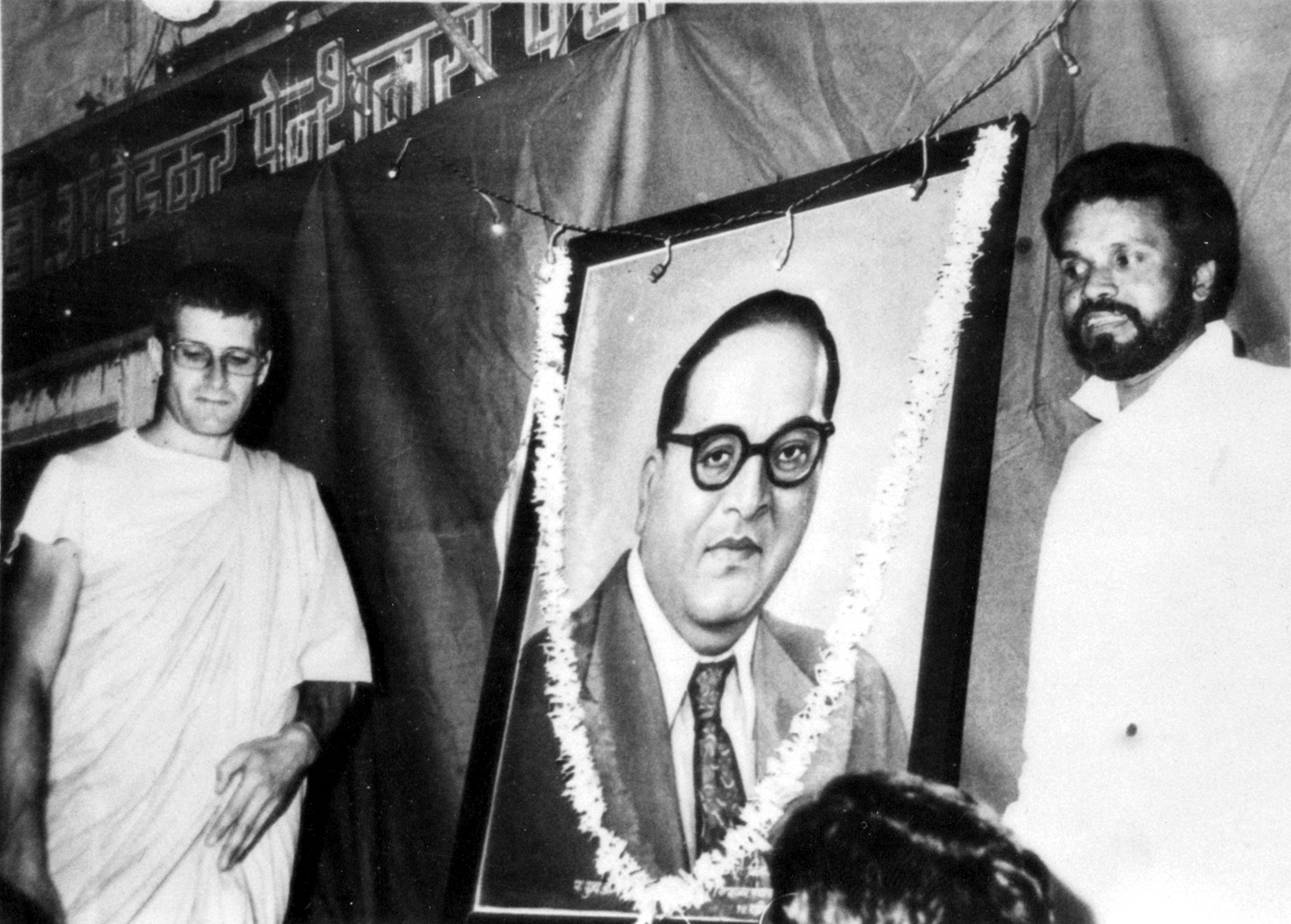 Ambedkar had converted to Buddhism in 1956. He'd been born an untouchable and he suffered a great deal in his childhood from untouchability, and struggled to get an education, but he managed to become one of the first untouchables to matriculate. With help from progressive leaders like the Maharaja of Kolhapur he finished his education abroad in America, at Columbia, studying under John Dewey, and then in England and Germany too. He came back one of the most educated people in India at that point but couldn't get a job in government service because of his status as an untouchable. That started his social career. He was intelligent, educated, had worked in Politics, Law, and Economics, and brought about lots of reforms in these areas, especially for the so-called untouchables.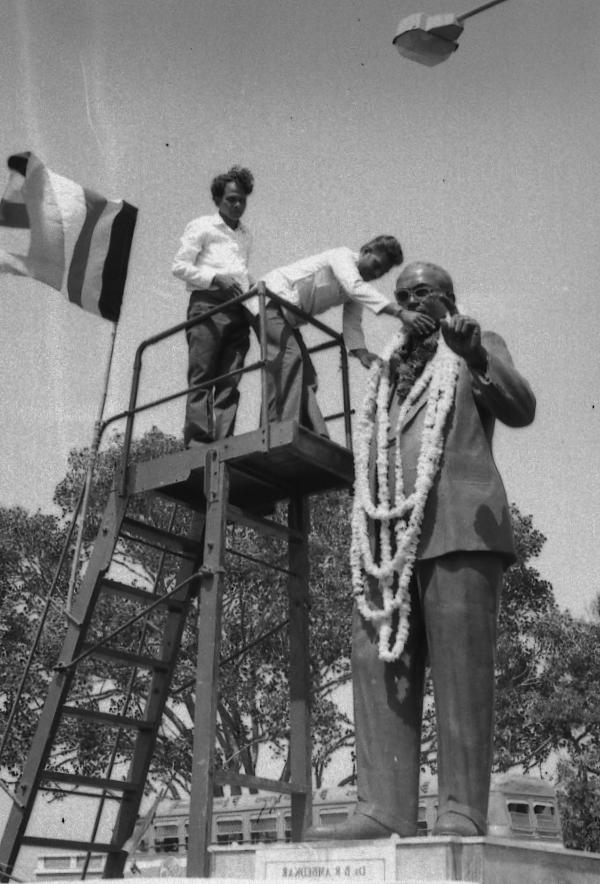 As time went on he came to the conclusion, though, that in a sense external changes weren't enough, they could only succeed with deeper changes of attitude. He tried to reform Hinduism, but eventually he realized that he would have to get out of Hinduism, get out of the religion that made him untouchable. He thought religion was very necessary because he felt that moral attitudes were conditioned by religion. By the time he was drafting the constitution of India he said that actually law plays a very small part, it's intended only to keep the sort of unlawful minority in order. Real law is maintained by the general morality of the people, and that morality is on the whole based on religious attitudes, so morality differs from religion to religion. He had three criteria for a religion. One was it should be based on science and religion, or should be in accordance with science and religion, should not contradict that, it should be in accordance with the principles of liberty, equality and fraternity and lastly it should not sanctify poverty.
At the end of his life he converted to Buddhism in Nagpur with around 500,000 people. The Mahar caste of Maharashtra, to which he belonged to, basically converted en masse to Buddhism, along with some other pockets in India, but he died just 6 weeks after his conversion. His community was extremely oppressed and easily exploited, stuck in villages and largely illiterate. There was no help from Buddhists abroad, and there were no Buddhists in India to speak of.
Sangharakshita, my teacher, was one of the few Buddhists in India at the time and he was one of the very few people who responded to the situation. After Ambedkar's death, he'd come down to Maharashtra and travel around helping people to understand the basics of Buddhism. He went back to England in 1964, so when I came down in '77 he asked me to meet some of his old disciples and then asked me to stay here. That's why I stayed here, and I was very keen to. Basically what I found was you had millions of people really wanting meaning in their religion, having enormous faith in Dr. Ambedkar but having had no way to understand it because of the difficulties they faced. So my early work, the first 10 years, a lot of it was just giving talks in localities, in slums, in villages; a lot of touring. Everyone was trying to make sense of his or her new religion, so everywhere I found there was a tremendous response to what we were doing.
This is the celebration of Dr Ambedkar Jayanti in Poona, where a lot of people gather at his statue in Camp to pay their respects. I'm not in this picture but I would also go and pay my respects by putting a garland round his neck. It was a rather precarious ladder I had to climb. If we gave public talks on festival days like Ambedkar's birth or death anniversary, or the anniversary of his conversion, these programs would often be held near the local statue of Dr. Ambedkar, and an important part of the programs would be garlanding the statue.
I remember this situation very well. We travelled in many villages and so on and we found there was a lot of confusion about Buddhism. Some may misunderstand what I say, but people were worshipping the old gods and trying to understand Buddhism at the same time. Ambedkar had been very categorical, he said look you can't do both. If you continued worshipping the old Hindu gods, that meant implicitly accepting your status in Hinduism. It was just a bit like a tug of war you know, if the sides are equally pulled then you can't really make progress. So without being antagonistic to the Hindu gods we just made it clear that you've got to choose. In a few places people would bring out their old gods, and this was one such place.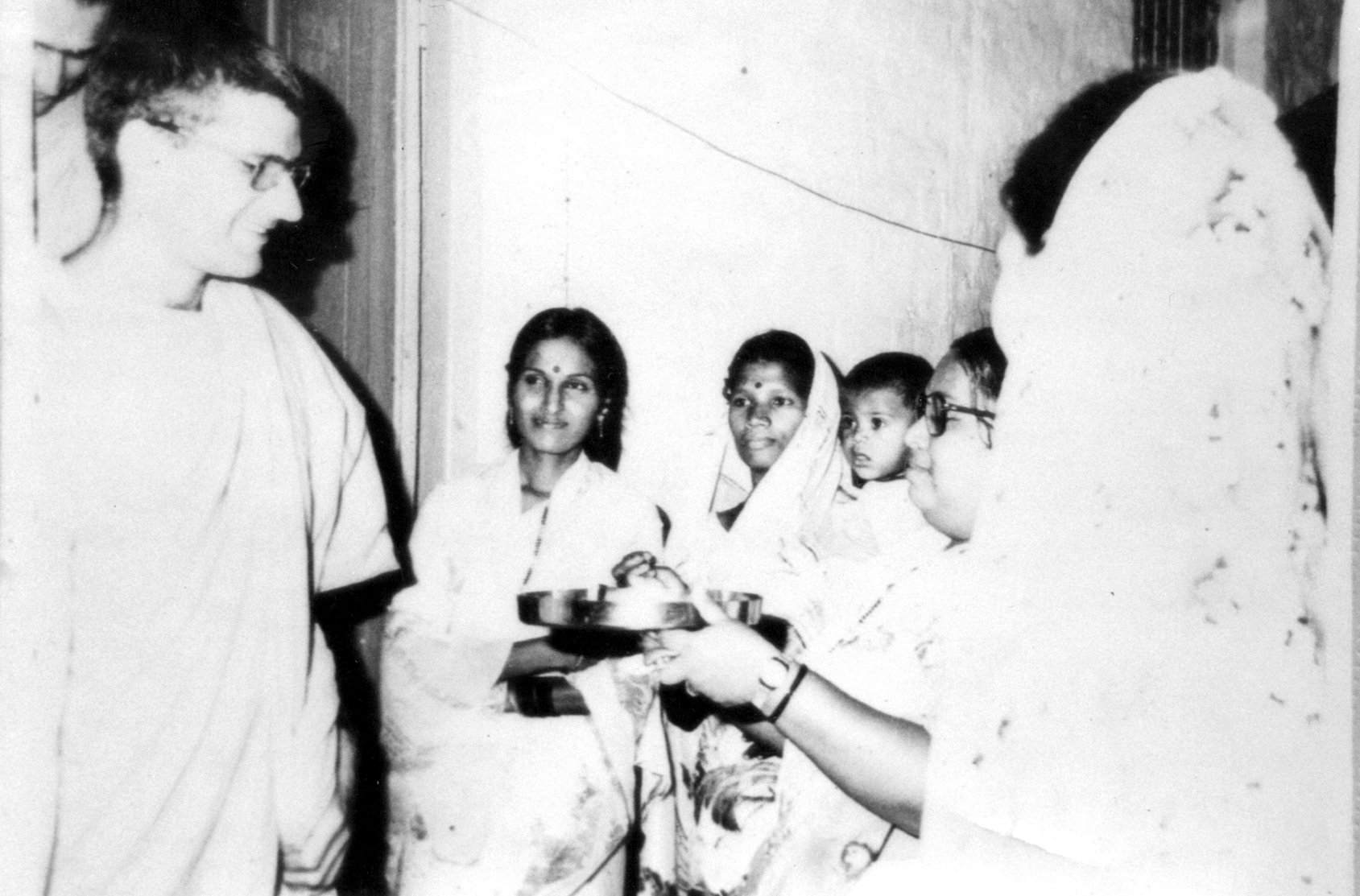 I can't remember where this was. I'm just being welcomed by some women.
How did you feel about this personally? About the way people looked up to you?Ummm… difficult. I mean, people were very positive and warm, and because I was a monk I was welcomed in any home. It was a very special feeling. At the same time you were sort of elevated, so you couldn't get close to people in certain ways. So that I didn't like. And then you know you're always having to question, 'Am I worthy of this respect?"
It was very mixed and I still think back on those days; they were a very valuable part of my life and I don't regret them at all. But yeah, in many other ways I was very glad to develop deeper friendships when I stopped being a monk. Level friendships, as it were.
This is a picture taken in Ambedkar societyin Pune, where we had our office. Your mother is there…can you recognize her? She must have been around 20 then.
At that ceremony she became what we call a Mitra. She wanted to formally associate with us and involve herself in deeper spiritual practice. She was very determined. Her family was very poor, her father working but not getting very much for it.
The very large man in the picture is Shakyanand, who worked with us. A real character. He would eat 7 meals a day, and everyday for lunch he'd bring a big dabba, a tiffin box that he'd always share around with us. When he retired properly he became a monk and travelled all the time, not staying in any place for more than 3 days. He was old, had diabetes, had absolutely everything wrong with him, but he'd just keep going.
The one next to your mother is Mrs. Wanshil, who sold vegetables outside her house everyday. Her husband would sometimes bring up to thirty people to our meditation classes! All his children, grandchildren, nephews and nieces! Just gives you a sort of idea of the people we were working with.
This was taken at the end of a retreat in the Rajapur summer palace, in Bhor, just outside Poona. A lovely place then. The place was about two kilometers from the town or any public transport, so we used a bullock cart to transport all our supplies back and forth. They were very good, these retreats.
They would be held on weekends, and you did a bit of basic meditation, and a bit of basic study. You were away from home, and people's homes were very crowded then, more than now. Slums are still the same, though. Anyway, it was very difficult to get down to regular meditation practice at home and understand the benefits of it, and very difficult to do serious study. There was always work to do at home, a lot of people around and so on, so you know, taking people away for two days made a massive amount of difference. They could sort of understand more fully, much more than was otherwise possible. Retreats are like that anyway everywhere, but I found that especially valuable here.
This is at Panchgani, probably 1977. That was just quite typical of a Buddhist community desperate to have some knowledge, and there's an old man there in the middle who was the sort of leader, and he was very keen to learn meditation. He wanted to join us for meditation in the mornings but he said, "The problem is that it's so cold here and I'm not well enough to have a bath before doing so." He had the idea, an old Hindu idea that you had to have a bath before meditating. So we said look, don't worry, in Buddhism there's no such rule. It's not outward washing that's important, it's inward washing. That was quite an interesting encounter I had there. It was a lovely old community and people.
This was at a big rest house in Sevagram, Gandhi's main ashram near Wardha. The workers in the ashram were all local Buddhists who lived down the road and they got terrible pay there from the government. They were all complaining aboutbeing treated very badly. We had a retreat there for about 300 people in '83. And so the man playing this drum had been a sort-of Hindu holy man from the Dalit community before he converted to Buddhism. A lot of grassroots level holy men play music, especially in Vidarbha, I imagine all over Maharashtra. He was known for his singing and beating of his drum so he came on our retreat and got quite involved with us. He was quite a character; really able to stir people up through his music.
The person next to him was actually the person who introduced me to him, Sanghasena. He was from Vidarbha, and Buddhists there specially have a strength and an energy that you don't get anywhere else in Maharashtra. He had been a Bidi worker, the little cheap cigarettes you get. After he met us, he spent all his time touring villages and organizing tours and retreats for us. He could really rouse people with his speeches.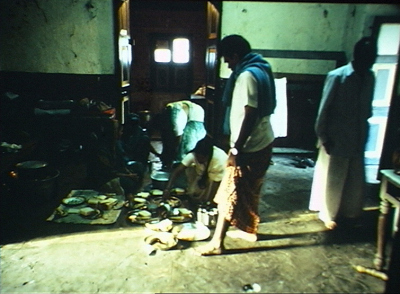 That's on retreat at Bhor, just preparing lunch. I remember people would spend so much time cooking and eating during retreats. Breakfast would take two hours, and lunch and dinner would take the same if not more, so there'd hardly be any time for any meditation or study.
When I started retreats, the women would automatically go straight to the kitchen and start cooking and serving, and the men would just hang around. So after a couple of retreats I thought this can't go on, so for some of the retreats after that we didn't allow the women into the kitchen. They were extremely upset with me, and the most of the men didn't know how to cook, so we had terrible food for the next few retreats. I got ill every time. But some of the men became very good cooks, so anyway, that was one of my moves towards at least a little bit of gender sensitivity, yeah? [grins]
This was just outside Ahmedabad on the banks of the Sabarmati river. The only place we could find was above a Hindu temple, just a couple of rooms. No toilets. It was a very enjoyable retreat. The Hindu sanyasi there put us all to shame because he was up at 3.30 every morning chanting Ram Ram Ram Ram Ram. And we didn't get up till 5 or so. We used to go to such fantastic places, and I just saw a side of India I could never have seen otherwise, taken everywhere by local people.
We used to occasionally go to Bhaja caves outside Poona and have a day outing there with families. We'd have a bit of meditation, a talk, lunch and just a nice day. This cave is 2200 years old or so. This is very interesting because in the beginning you didn't have images of the Buddha or anything, you just had stupas; people worshipped the Buddha by worshipping stupas. Statues and so on only came a few centuries later, so the fact that there are no Buddha images here shows that it was a pretty old cave.
Going down to Bombay from Poona by train, you can see these caves from Thakarwadi, where the train stops every time to test its brakes. We weren't sure, but we thought they were caves, so one day a few of us got down at this 30 second halt and walked across for an hour and a half to them.
They were indeed caves. Caves were excavated from the top down, and usually the people who did it really knew what they were doing, but here the caves were all cracked up half-way down, it's as if they'd hit a wrong strain of rock.
We stayed there the night, and came back the next day.
This is me and Kularatna at London airport when we were leaving for India. This was my second time back to India as a monk and I had decided to come out and live here.
You look very happy here.
I was. God, life in Britain! There was nothing to attract me there. This was a new lease of life. Britain was boring then… No I had nothing, no future in England. I mean, I can't stand living in India at times, but I don't mind all of life here. It's not a bed of roses, as they say. But I wanted to leave England also because when I had come to India for the very first time in 1969 to 70 for seven months, I found it very freeing culturally. I'd never been out of Europe before. India was a completely different environment. So many of my old cultural assumptions were dissolved and I found it very freeing psychologically. When I went back to England then I found that gradually, the old conditioning was taking over, so I wanted a prolonged period away from Europe. And this was an opportunity.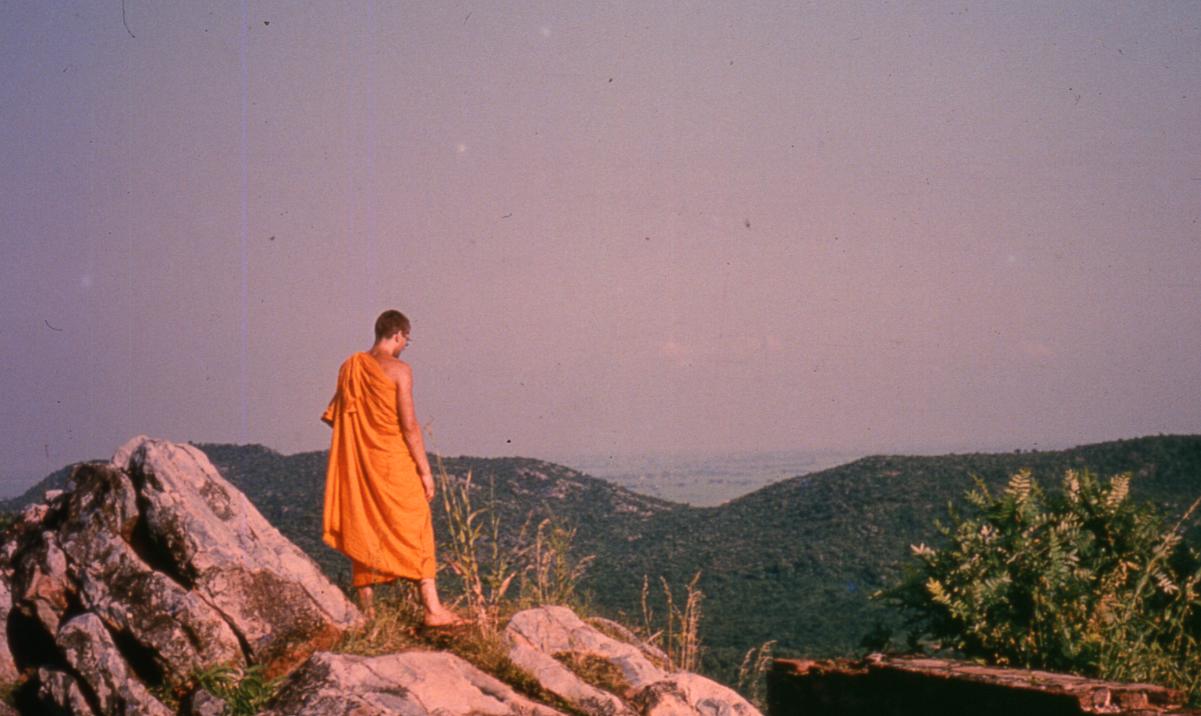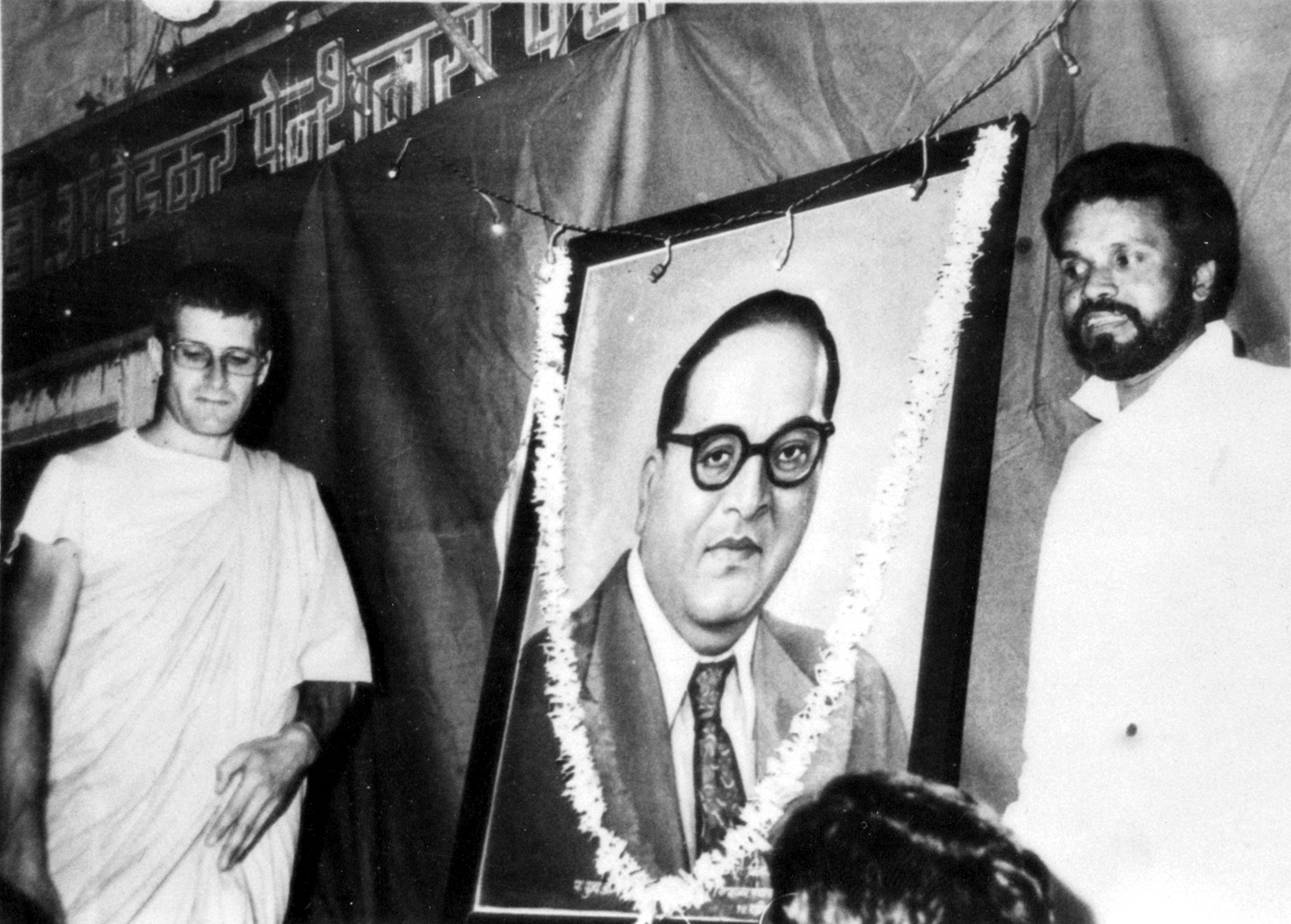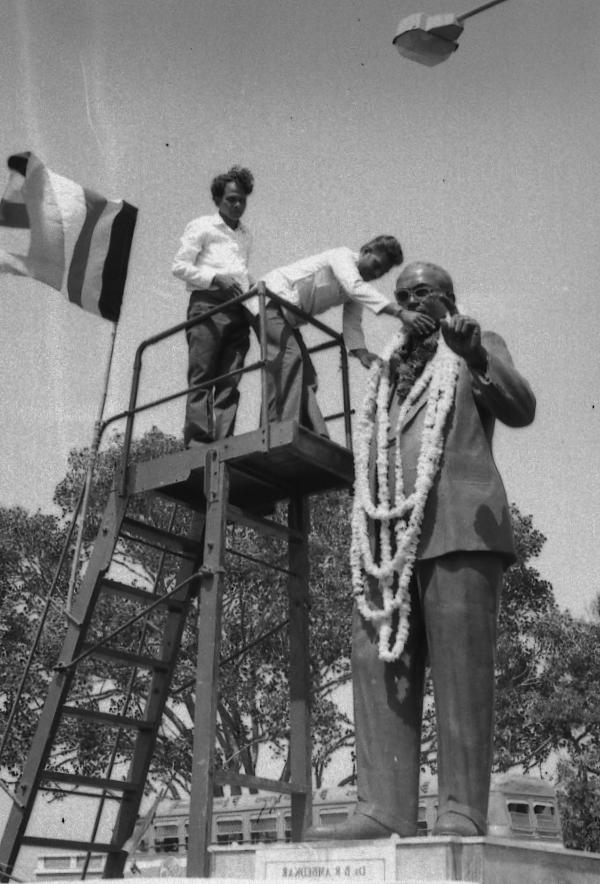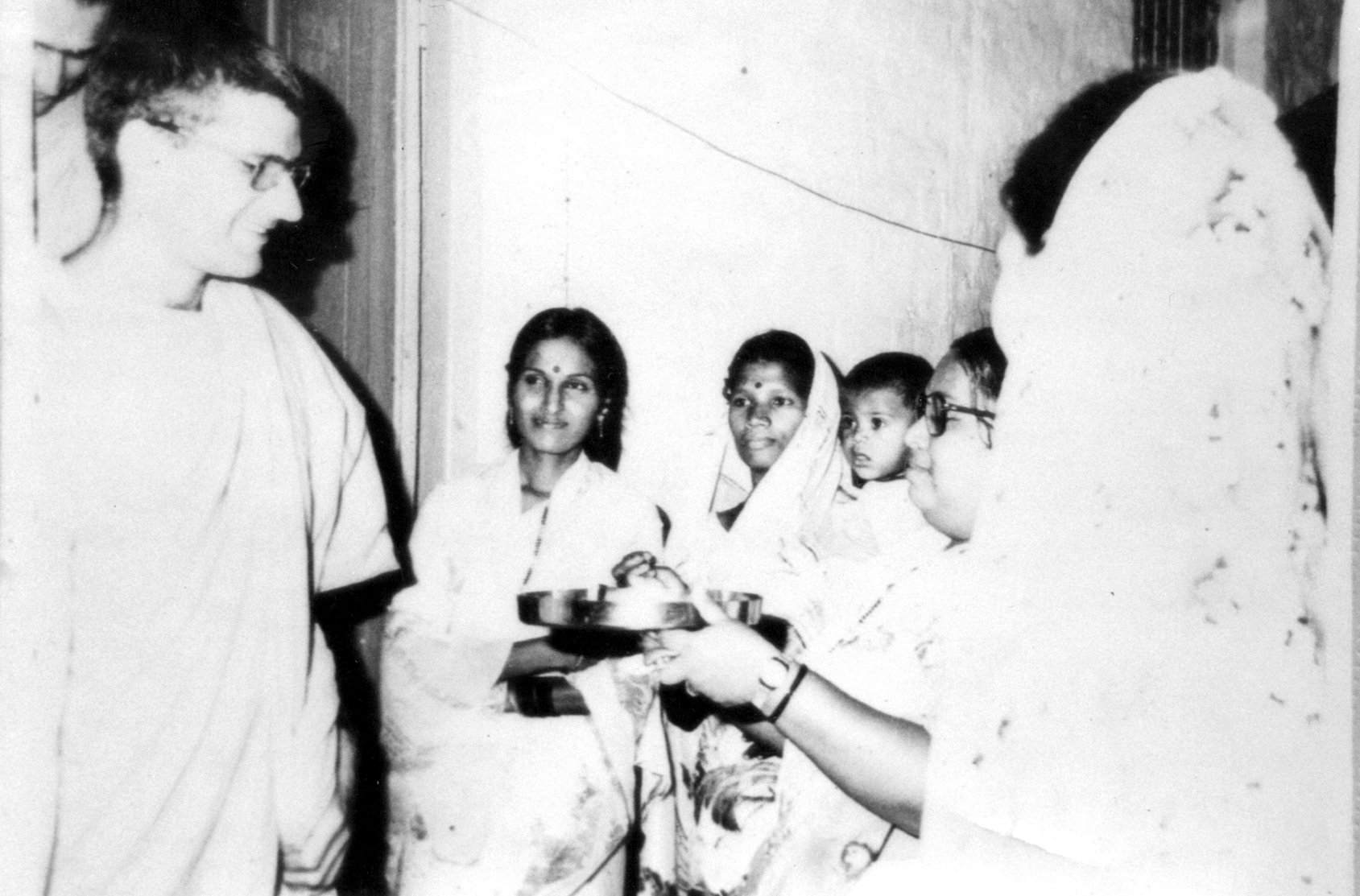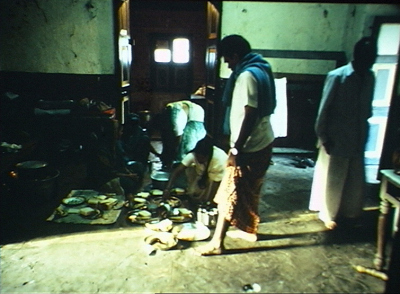 BUDDHISM IN 1970s INDIA
A Photo Elicitation
2013
In 1977, Rajyashri's father, Jeremy Goody, or Lokamitra, as known by his Buddhist name, moved permanently to Pune, India from London. Since then, he has been helping work towards the social and spiritual empowerment of the Dalit ex-untouchable community, particularly in the state of Maharashtra.
This photo elicitation project focuses on his first few years in India when he was a Buddhist monk. Though interweaved with his personal impressions of travelling in a foreign land as a monk, the project primarily attempts to explore intricate facets of the Dalit Buddhist movement and the lives of its participants in the late '70s and early '80s, as recounted by Lokamitra.
The photographs used in this piece of work comprise a mix of pictures from Rajyashri's father's collection and those that she found via the Triratna Buddhist Community Flickr account online. The photo elicitation process itself was carried out over Skype. Although in many ways it might have been interesting to communicate in person with printed photographs, for material photographs 'do not just represent history, they are historic in themselves' (Edwards 1997), as Lokamitra has scanned most of his old photographs and now views them mainly on a computer screen, the conduct of this photo-elicitation practice over the Internet seemed fitting.